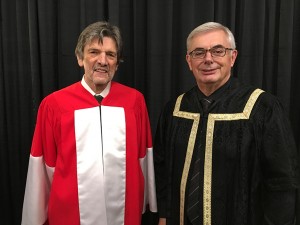 UNIVERSITY OF MANITOBA, WINNIPEG
Micheal O'Siadhail visited the University of Manitoba for two days in October 2017 to receive an Honorary Degree, Doctor of Letters, one of the Fall 2017 recipients. The following is the citation from the President of the University of Manitoba, David Bernard.
Micheal O'Siadhail, B.A., M.Litt. (Trinity)
Honorary Doctor of Leters (honoris causa)
Tuesday, October 17, 2017, at 3.30pm
Micheal O'Siadhail, one of Ireland's finest and most prolific poets, grew up in middle-class Dublin in the 1950s.
While attending a Jesuit boarding school as a teenager, he discovered his love of poetry. It was a fitting medium for the impassioned youth, who felt things deeply and was intrigued by language.
He pursued a Master of Letters from Trinity College Dublin and would continue on with this post-secondary institution from 1969 to 1973 in his career as a linguistics academic. In his role as a professor at the Dublin Institute for Advanced Studies that followed, Mr. O'Siadhail pioneered a textbook and audio collection titled Learning Irish that remains the standard introductory course on the topic around the world.
The pull of poetry was strong and Mr. O'Siadhail left academia in 1987. His intuitive grasp of the human experience has since made him a treasured poet with works translated in countries across the globe.
Mr. O'Siadhail has written 16 collections of poetry, alternating between public and private spheres, exploring themes as varied as friendship, history, trust, love, language, mortality and the Holocaust. This international scholar who speaks 10 languages feels equally at home in Norway, Iceland, England, the U.S. and Canada. His recent collection of poetry, titled Tongues, reflects his truly global perspective.
His poetry achieves a level of intensity while still being accessible, the latter of which Mr. O'Siadhail believes in wholeheartedly. He has served as editor of the Poetry Ireland Review, established and first chaired the Ireland Literature Exchange, and was a founding member of Aosdána, the Academy of Distinguished Irish Artists.
Bringing his keen intellect and artistic insight to students and fellow academics, he has served as a visiting professor, writer-in-residence and guest lecturer around the world, including at Harvard and Yale universities.
His work has been awarded the Irish-American Cultural Institute Prize for Poetry, the Marten Toonder Award, and the Poetry Book of the Year from the Sunday Tribune. In 2003, The Gossamer Wall: Poems in Witness to the Holocaust was shortlisted for the Jewish Quarterly-Wingate Literary Prize.
His inspiration finds its roots in theatre, classical music and jazz; he sees their intrinsic connection to poetry, through rhythm, alliteration and rhyme. Passionate about his art, Mr. O'Siadhail likens each of his poems to a child he sends off into the world to engage and explore.
The University of Manitoba is proud to award a Doctor of Letters, honoris causa, to Mr. Micheal O'Siadhail, who stands tall in the mighty pantheon of Irish poets.